2018 incidents
Jan.
176
Feb.
54
Mar.
68
Apr.
51
May
78
June
218
July
234
Aug.
240
Sept.
230
Oct.
Nov.
Dec.
Past Incidents
2014
7621
2013
7899
2012
7632
2011
7316
2010
7564
2009
7286
2008
7106
2007
6762
2006
6420
Web Counters
Website Visitors
Since
March 22, 2006

Visitors Today
Dec 05, 2023

Serving the citizens of Stafford County since 1941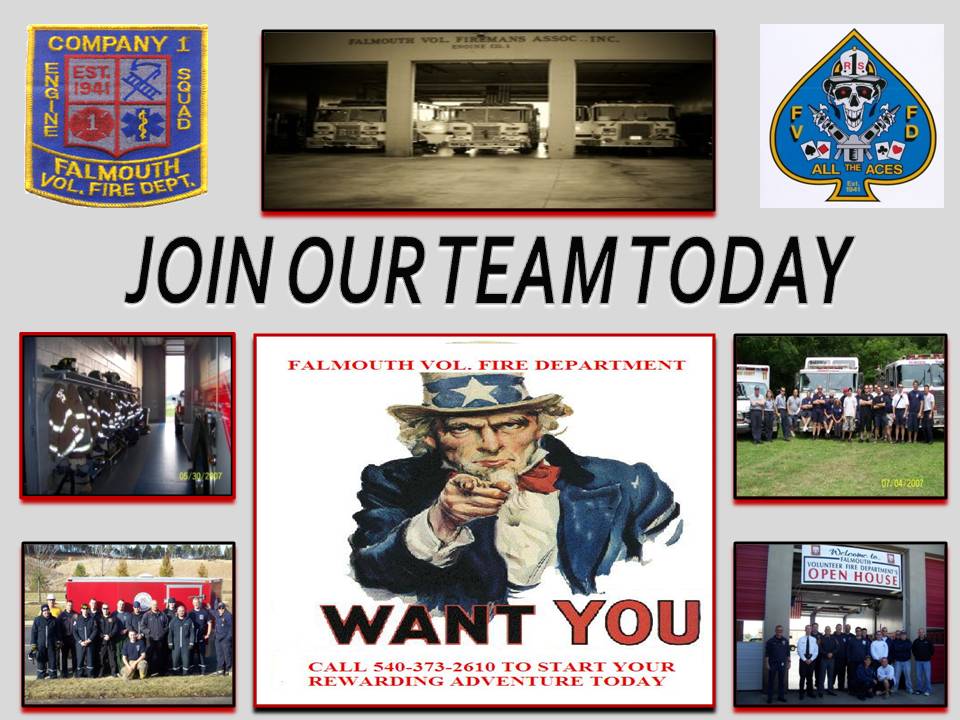 Follow Us Now On Twitter

And Facebook
Engine Takes In First Due House

Falmouth Volunteers, May 09

At approximately 0004 hours the Box Alarm was transmitted for 24 Cherry Laurel Drive bringing Engine 1 with 4 Volunteers. Communications stated they were getting multiple calls advising there was a fire on the rear deck. Engine 1 arrived on the scene with fire from the roof of a one story single family. The Engine secured their own water supply and stretched the 400 to the Alpha side. Upon viewing ... (Full Story & Photos)

Public Support

FALMOUTH VOLUNTEERS, March 06

The officers and administration would like to thank the community for the out pouring of support during the recent event taking place last Saturday. We operate as volunteers giving our time from our lives to help the public in there time of need. The recent events that have taken place have showed across the nation that the citizens we serve support us through tough times. We have received calls ... (Full Story)




THREE DAYS...THREE FIRES FOR FALMOUTH VOLUNTEERS

FALMOUTH VOLUNTEERS, February 22

Just after 0500 hours the members from Falmouth were alerted for a house fire, this time at 4 Randolph Road in the Ferry Farms area of Falmouth. While enroute Stafford ECC advised responding units of 5 potential occupants still in the house. Engine and Chief 1 arrived on scene to find a 1 1/2 story SFD with fire showing from the Alpha and Bravo sides and its occupants exiting the structure from ... (Full Story & Photos)



Photo Courtesy of J. Leach Sr.

RESCUE RUNS APARTMENT FIRE IN FREDERICKSBURG

FALMOUTH VOLUNTEERS, February 21

At 1645 hours units from Stafford County responded to an apartment fire at 2516 Manor Drive in the City of Fredericksburg. Companies from the Fredericksburg Fire Dept. quickly arrived on scene with smoke showing from a 2 story apartment building. Members of Rescue 1 met up with Fredericksburg Ladder 1 and assisted with the primary searches in the fire apartment and apartment above while also securing ... (Full Story & Photos)


ENGINE RUNS FIRST DUE TOWNHOUSE FIRE

FALMOUTH VOLUNTEERS, February 20

At 1642 hours Engine 1 was alerted for a residential fire at 108 Jefferson Avenue in the Chatham Heights area of Falmouth. Engine 1 arrived on scene to find a 2 story end of the row townhouse with smoke showing from the front door. Members quickly placed a handline in-service while the Enigne OIC completed a lap of the fire unit. Upon completion of the walk-around, the fire was located in the kitchen ... (Full Story & Photos)



Photo Courtesy of Paul Lof


Falmouth Volunteers Run One Trapped In Brooke

Falmouth Volunteers, October 28

Shortly after 17:00 hours Rescue Squad 1 was alerted for another auto accident reported with entrapment in the are of Brooke Road and James Hill. Rescue 1 was first to arrived to find a single vehicle into a tree with one trapped. Rescue 1 then stabilized the vehicle. Once the Vehicle was stabilized the crew then removed the drivers door to gain access to the patient. Medic 7 packaged the patient ... (Full Story & Photos)

Thank you for visiting the Falmouth Fire/Rescue Department website.
Feel free to leave your comments in our Guestbook.
COME JOIN THE TEAM BE AN ASSOCIATE OR AN ACTIVE FIREFIGHTER OR EMT.